Myers Service And Distribution, Inc.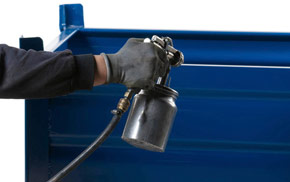 Welcome to Myers Service & Distribution, Inc. Since 1989, we've been proudly providing Charlotte, NC with industrial painting equipment, as well as many other home painting services. We hope you choose Myers Service & Distribution for all your spraying needs!
Quality Paint Sprayers and Pressure Washers in Charlotte, NC
Is it time your home or business got a fresh coat of paint? Whatever your unique situation is, Myers Service & Distribution, Inc. can provide you with the tools and information you'll need to get the job done. We're happy to be the best place to find industrial spraying equipment in Charlotte, NC, and our staff's combined experience of over 50 years in the painting business ensures that a visit to our shop will never be in vain. We love being able to offer industrial painting equipment in Charlotte, NC, and are able to put much more of our time and resources into helping each customer than a large chain supply shop would be able to. We look forward to counting you as one of our valued customers!
Myers Service & Distribution, Inc. offers a wide variety of products and services—it's almost certain we'll be able to provide whatever you need. In addition to providing residential painting tools and commercial painting equipment to Charlotte, NC residents, for sale or for rent, we're also happy to service and repair your own painting and spraying equipment. In our 25 years of business, we've seen it all, and we want to use our experience to help you. Pay us a visit today and find out what so many of our customers in Charlotte already know:
We use and sell a wide variety of quality paint products, including: MiTM pressure washers; Graco, Tytan and SprayTech paint sprayers; and Wagner finishing equipment.
Our knowledgeable and friendly staff has 50 years of combined experience.
We've been a proud local business since 1989.
We can service and repair your equipment quickly and efficiently.
Our prices are competitive.
At our discretion, we reserve the right to not participate in the bidding process.